October 21, 2013
Board Approves Committee Recommendation, Names Prestwick STEM Academy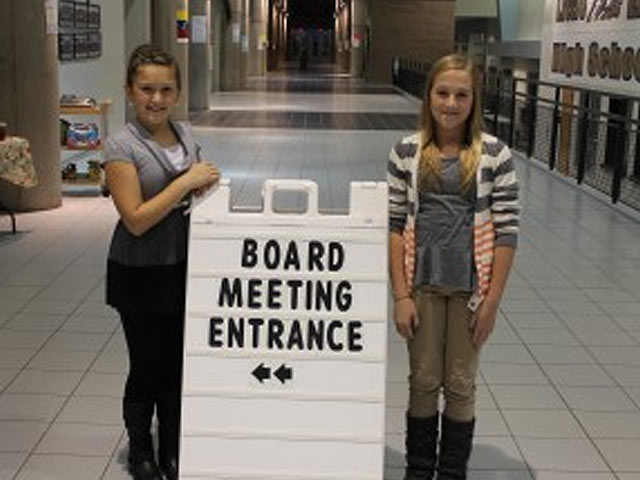 During their regular monthly meeting, the Little Elm ISD Board of School Trustees approved the name of the new K-8 STEM Academy currently under construction in The Tribute neighborhood as Prestwick STEM Academy.
In September, the district asked members of the community to submit names and ideas for the name of the new campus located in the southern end of the district.
A committee comprised of community members, students, teachers and staff reviewed the suggested names to insure they met the Board's Policy. Following that review, the team came to consensus on two names to move forward to the Board that included Stonefield Academy of STEM and Prestwick Academy of STEM.
Hackberry Elementary School Fifth Grader MacKenzie Williams made the presentation of the name ultimately selected by Board on behalf of the Committee. She said, "The name Prestwick comes from The Tribute neighborhood, which is where I live. Our developer, Matthews Southwest, had a contest to name the hawk that regularly sits on top of the tower that greets everyone who comes to The Tribute. The name chosen was Prestwick. I am also a Native American Indian of the Choctaw tribe. In the Native American culture, hawks represent focus and keen vision. They are known to observe their surroundings for prey and then take action. To me, that is what the STEM would represent. We are all like hawks – observing our surroundings, staying focused and having a vision for the future. Hawks also soar high, which is what the school district wants for all of its students – to soar high in their education."
Tatum Mowery made the presentation of the other name, Stonefield Academy of STEM. She stated that the idea was reflective of the architecture and topography of the neighborhood and geographic area.
During the motion to approve, Board members discussed and elected to reverse the order of the name proposed. They approved the official name as Prestwick STEM Academy.
Recent Articles
Categories
Archives