April 30, 2013
Matthews Southwest Awards $500 Scholarship to Little Elm Top Ten Seniors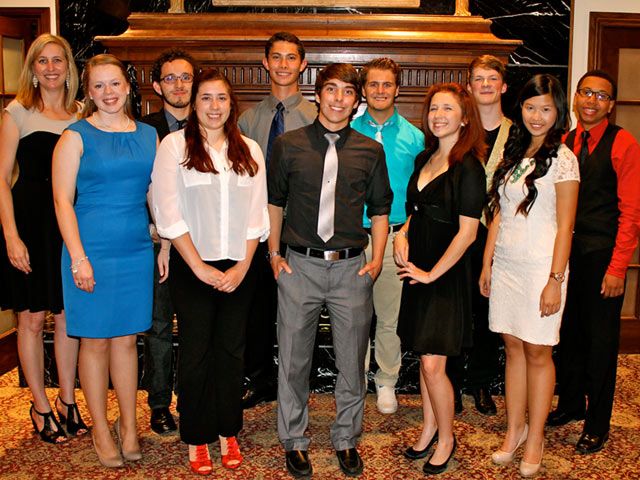 (Little Elm, TX) Matthews Southwest, the developer behind The Tribute lakeside golf and resort community, located within Little Elm ISD, announced its second annual scholarship awards to Little Elm High School's Top Ten seniors at a recent awards banquet on May 29, 2013. Each senior was awarded with a $500 scholarship for their higher education.
"These high school seniors desire to make a difference in the world and are working hard to achieve their hopes and dreams," said Jack Matthews, president of Matthews Southwest. "This scholarship was created to support exceptional students who have demonstrated a commitment to learning and we are excited to help them reach their educational goals."
The scholarship recipients, in Top Ten order, are:
Valedictorian: Laura Hinsch, daughter of Jane and Marlin Hinsch, has been accepted to John Hopkins University and will be majoring in Molecular and Cellular Biology.
Salutatorian: Calla Dismuke, daughter of Trent and Melinda Dismuke, is attending Oklahoma State University double majoring in Biology and Athletic Training.
Kirkwood Vangeli, son of Deborah Raymond and Michael Vangeli has been accepted to attend Rhodes College in Memphis, TN and major in Political Science. He will then pursue his graduate degree in Law.
Shelby Peake, daughter of John and Jamika Peake and Michael and Francisca Harrison, plans to attend the Pratt Institute School of Art & Design in New York majoring in Animation.
Quynh Vo, daughter of Hai Vo and Huong Vu, will attend The University of North Texas majoring in Biology/Pre-Med.
David Raygoza Castanos, son of Humberto Raygoza and Aurora Castanos, has been accepted into NYU's Tisch School of the Arts where he will major in Film and Television Production.
Christopher Buliga, son of Samuel and Valetta Buliga, will attend The University of Texas at Dallas majoring in Biology/Pre-Med.
Levi Kemmerer, son of Phil and Shelly Kemmerer, will attend The University of Oklahoma majoring in Biology.
Jimmie Housel, son of Sarah and Roger Housel will attend University of Texas at Arlington majoring in Music.
Kevin Mojica, son of Rosa Mojica will attend the 3rd ranked Liberal Arts College in the nation Swarthmore College in Swarthmore, PA.
In addition to receiving scholarships from Matthews Southwest, Little Elm ISD honored the students for their academic achievements and either a parent or influential teacher commemorated each student's accomplishments.
Located in The Colony on a Lake Lewisville peninsula one mile west of FM 423 on Lebanon Road, The Tribute (www.thetribute.com) is a 1,600 acre master planned community that will include more than 2,000 homes ranging in price from $280,000 to over $1 million at build out. The Tribute will also feature condominiums and upscale apartments. The Tribute boasts two 18-hole awarding winning golf courses with club houses and more than 200 acres of natural open space with a trail system and canals.
Matthews Southwest was founded in 1988 as a full-service development company by Jack Matthews. Based in Dallas, Texas, the company has completed projects across a broad spectrum including residential, corporate office, institutional and industrial, in both Canada and the United States. The company's most recent projects include the Omni Dallas Convention Center Hotel and The Bow, a 58-story mixed-use development in Calgary, which will be the corporate headquarters of EnCana and Cenovus Energy, two of Canada's largest oil and gas companies. From conception to completion, Matthews Southwest brings together financial resources and an experienced management team to form profitable partnerships focused on creating projects of lasting excellence. More information can be found at http://www.matthewssouthwest.com.
Recent Articles
Categories
Archives