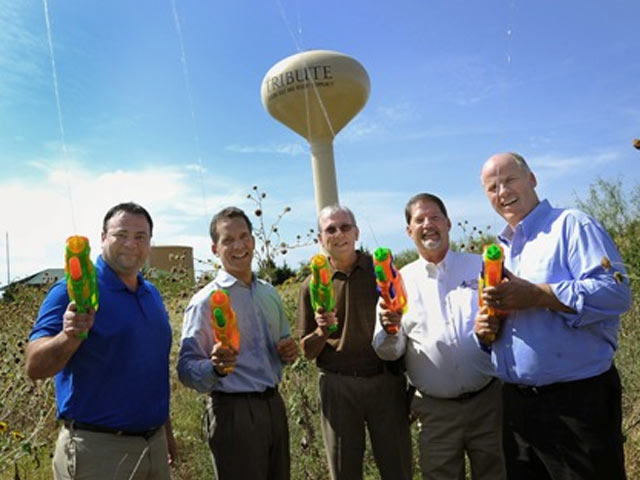 The Colony unveiled its $2.4 million elevated water storage tank with an unlikely celebration – a friendly water fight between developer executives and city administrators.
"Being out here beneath this new tower with our friends from Matthews Southwest is just a perfect example of how The Colony continues to enjoy success with all of our recent growth, both in the residential and commercial sectors." said The Colony Mayor Joe McCourry.
"This tower was part of our 2010 water plan to accommodate expansion in the area," continued McCourry. "It was built on property that the city owns, which was donated by the developer Matthews Southwest, and lessens the demand on the city's other three water towers."
Funds from The Tribute Tax Increment Financing District, which the city council approved in 2013, paid for the cost of constructing the tower and did not impact property taxes. Matthews Southwest, the developer of The Tribute, a master-planned community located in The Colony's Wynnwood Peninsula, financed the cost of construction of the tower on behalf of the city to speed up the construction timeline.
"Our unique partnership and long-standing relationship with the City of The Colony truly demonstrates what can be accomplished when there's full trust and cooperation between public and private groups trying to do the right thing," said Jack Matthews, president of Matthews Southwest.
The city also worked closely with Matthews Southwest on selecting the type and aesthetic design of the new tank.
"We hope the tower serves not only as a source of vital resources for residents, but also a picturesque landmark indicative of the pride we all have in our community," said Gordon Scruggs, Director of Engineering for The Colony.
Construction of the one million gallon storage tank, located at the Wynnwood Pump Station on Lebanon Road, took 12 months and became fully operational in July 2015. The steel tower is 164 feet tall, spherical in shape, and features The Colony logo facing west and The Tribute logo facing east.
Recent Articles
Categories
Archives