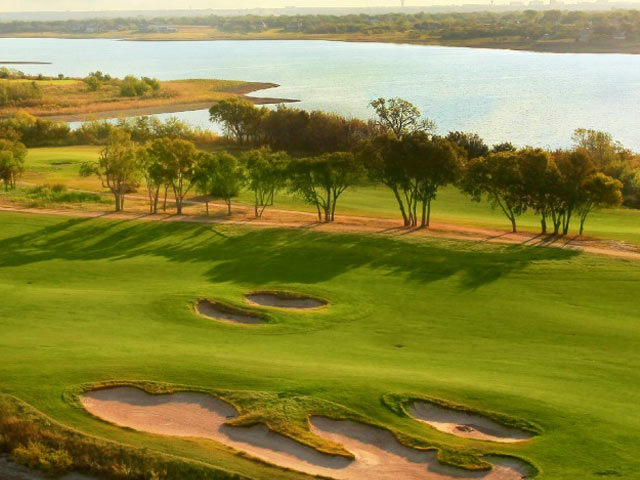 THE COLONY, Texas — Old American Golf Club – a pure golf experience from award-winning architect Tripp Davis and PGA TOUR player Justin Leonard – has been selected by the Northern Texas PGA to host the 2013 Texas Women's Open June 19-20.
The tradition-rich tournament, first played in 1935, features top amateur and professional female golfers from not only Texas, but 20 states and 14 countries. Players will match wits and mettle against Old American's award-winning, strategically-demanding layout wrought along the shores of Lake Lewisville.
"With its design variety, Tour-level conditioning and variable wind conditions, Old American is ideally suited for high-caliber championship play," says Mark Harrison, Executive Director of the Northern Texas PGA. "We are excited about the test of golf it presents our players and overall partnership for 2013."
The 36-hole stroke play event with no cut will be limited to the first 144 professional and amateur contestants. The field will include the following exempt players if they choose to participate: Past champions; the top 15 professionals and ties from the 2012 Texas Women's Open; and the top 10 amateurs and ties from the 2012 Texas Women's Open.
Women age 50 and older will have the option to compete in either the Open or Senior Divisions. A separate set of tees played at approximately 90-94% of the overall championship yardage will be implemented as well as a Senior Division purse based on the amount of entries received.
"The Texas Women's Open has such a storied history and a past champions list that reads like a 'who's who' in Texas golf," says Mike McCabe, Old American General Manager.
The official entry form for The 2013 Texas Women's Open at Old American will be available on Friday, April 26. Entry fees for the event are as follows: Amateurs – $200.00; LPGA Members and PGA Members and Apprentices – $250.00; Non-affiliate professionals/Futures Tour players – $300.00.
The entry deadline will be Friday, June 14 at 5:00 p.m. CDT. All entries must be received by the Northern Texas PGA via mail, facsimile, overnight carrier, or in person by this time. Online entries will also be accepted at www.ntpga.com.
For more information on Old American: 972-370-4653, www.oldamericangolfclub.com.
About the Texas Women's Open
The Women's Texas Open was played from 1935 – 1955. Over the span of two decades, the event was held 17 times – 13 years at River Crest Country Club and four years at Colonial Country Club in Fort Worth. The event was conducted by the Fort Worth Women's Golf Association, supervised by River Crest's longtime professional A.G. Mitchell, and was last played in 1955. Some of the game's greatest names captured the event including Babe Zaharias who won the title five times, Aniela Goldthwaite, a three-time winner, and Betsy Rawls, Beverly Hanson, Polly Riley, and Betty Jameson who each captured the title twice. The event was revived in 2001 by the Northern Texas PGA to promote the game to female golfers throughout the region and the name was changed to the Texas Women's Open.
About Old American Golf Club
Inspired by the 'Golden Age' of golf course architecture between 1911 and 1937, Old American's natural contours, hazard styles, native grasses and green shapes were influenced by such masterpieces as Shinnecock Hills, National Golf Links, Prairie Dunes and Crystal Downs.
Acclaimed architect Tripp Davis, an accomplished amateur player and former All-American at the University of Oklahoma and PGA TOUR/Ryder Cup star Justin Leonard, who played golf at the University of Texas, toured and played a handful of America's classic Golden Age golf courses prior to starting the design process for Old American.
The result is a golf course that emphasizes strategy and shot-making and flows with a natural rhythm from first tee to 18th green. Old American features six sets of tees, ranging from the 5215-yard forward markers to the 7174-yard "Leonard" tournament tees. Davis and Leonard conceived the routing and layout with both medal and match play in mind, as golfers are required to hold "steady to par" through a number of holes, but enticed to gamble on birdie or better during select stretches of the course.
Accolades for Old American include:
• "Top 10 New You Can Play" – GOLF Magazine
• "Best New Course" – Golfweek
• "Best New Course" – LINKS Magazine
• "An instant classic" – The Dallas Morning News
• "Beginning to resemble a TOUR venue," Texas Golfer
• "The place the pros play" – About.com
Recent Articles
Categories
Archives