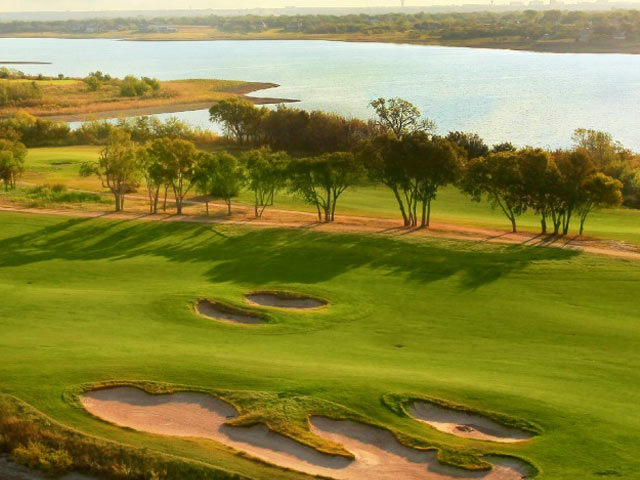 THE COLONY, Texas – Old American Golf Club will host a local qualifying tournament on May 19 for the upcoming 2014 U.S. Open to be held at Pinehurst Resort & C.C. (June 12 – 15).
Thousands of golfers from around the world annually pursue the chance to play in the U.S. Open Championship. Local qualifying takes place this year at 111 sites across the country from May 2 – 19. Each local qualifier consists of 18 holes, with several players, determined by the size of the field, advancing to sectional qualifying over 36 holes at 10 U.S. sites on June 2.
Old American – a pure golf experience from award-winning architect Tripp Davis and PGA TOUR player Justin Leonard – should prove to be a tough test for those seeking to advance. The classically-designed layout is No. 6 in Texas – one of the most golf-rich states in the U.S. — and was named "Best New" by Golfweek in 2010.
"We're honored the USGA has selected us as a qualifier site for our country's most prestigious golf event," says Mike McCabe, general manager. "Old American is the epitome of a strategic, shot-maker's layout and ideal to help identify players in total control of their game for the upcoming pressure of the U.S. Open."
Old American resides along the shore of Lake Lewisville just 20 minutes north of DFW International Airport. Inspired by the "Golden Age" of golf course architecture – a period of excellence between 1911 and 1937 — it also garnered "best new" recognition from GOLF Magazine, and LINKS. Naturally formed bunkers, organic green complexes and a variety of native grasses combine to create holes leveraging varying wind conditions.
The course is a regular stop for PGA TOUR professionals in DFW. Rod Pampling, who sports the Old American logo on his bag, holds the course record of 66. He broke the previous record held by Nathan Green (67) and Leonard and K.J. Choi before that (68). Other pros utilizing Old American's world-class practice facilities and tournament-caliber layout include Y.E. Yang, John Senden, Steven Bowditch, and Paul Stankowski.
For more information: 972-370-4653, www.oldamericangolfclub.com.
About Old American Golf Club
Inspired by the 'Golden Age' of golf course architecture between 1911 and 1937, Old American's natural contours, hazard styles, native grasses and green shapes were influenced by such masterpieces as Shinnecock Hills, National Golf Links, Prairie Dunes and Crystal Downs.
Acclaimed architect Tripp Davis, an accomplished amateur player and former All-American at the University of Oklahoma and PGA TOUR/Ryder Cup star Justin Leonard, who played golf at the University of Texas, toured and played a handful of America's classic Golden Age golf courses prior to starting the design process for Old American.
The result is a golf course that emphasizes strategy and shot-making and flows with a natural rhythm from first tee to 18th green. Old American features six sets of tees, ranging from the 5215-yard forward markers to the 7174-yard "Leonard" tournament tees. Davis and Leonard conceived the routing and layout with both medal and match play in mind, as golfers are required to hold "steady to par" through a number of holes, but enticed to gamble on birdie or better during select stretches of the course.
Recent Articles
Categories
Archives