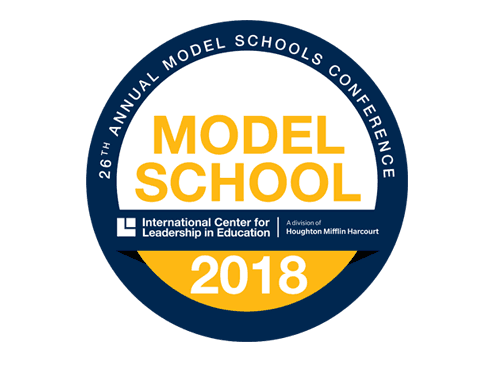 The International Center for Leadership in Education (ICLE), whose mission is to challenge, inspire and equip today's educators to prepare students for lifelong success, has named the Prestwick STEM Academy as a Model School for 2018. Prestwick STEM Academy is being recognized for its future-focused approach and the implementation of a rigorous and relevant curriculum that challenges students to think beyond the classroom to solve real-world problems.
Prestwick STEM Academy is one of 23 innovative schools that will share best practices at ICLE's 26th Annual Model Schools Conference, June 24-27 in Orlando. The Model Schools Conference is the nation's largest event for rapidly improving K-12 schools and districts.
"We applaud these inspiring schools for persevering on a path to rapid improvement by creating a positive systemwide culture of high expectations and strong, positive relationships," said Dr. Willard R. Daggett, Founder, and Chairman of the International Center for Leadership in Education.
"We are Prestwick proud and honored to share our strategies for embedding interdisciplinary learning including STEM and project-based learning. We hope to share our journey in building a clear vision and unified approach to providing learning that speaks to the minds and hearts of EVERY learner in our community. Our work moves us closer to the Little Elm ISD dream of creating a community where every student loves to learn, every teacher loves to teach, and every person is proud to call home," said Christine Gibson, principal for Prestwick. "We are equally excited to collaborate and gain ideas from fellow Model Schools and leaders. Together, we will continue our quest to be the very BEST place to ENGAGE, EQUIP and EMPOWER our Little Elm ISD students."
"It is an honor to have one of our campuses selected as a Model School for the upcoming Model Schools Conference. Not only have our leaders worked tremendously hard to set the bar high as it pertains to rigor and relevance, but our teachers have done an amazing job applying unique and creative learning strategies for our students," said Daniel Gallagher, superintendent for Little Elm ISD. "Because of their hard work, our Prestwick teachers and campus leaders will represent Little Elm ISD and lead a session to share their ideas with other educators across the country."
Model Schools are selected annually based on a number of criteria including substantive, data-validated growth year over year; evidence of a strong culture that puts students at the center of learning; and dedication to transforming instruction to meet the needs and demands of the future.
"This year's Model Schools come from all pockets of the country, but are united in working toward a vision of high achievement and equitable opportunities for all students," said Dr. Daggett. "The Model Schools Conference will provide the Prestwick STEM Academy the unique opportunity to engage in dialogue around real challenges and solutions, discover best practices for personalizing learning and fostering a growth mindset, and build their own personal network," said Dr. Daggett.
The ICLE, a division of global learning company Houghton Mifflin Harcourt, has observed, studied and supported the transformation of the nation's most rapidly improving schools and districts over the past two decades. The Model Schools Conference has attracted thousands of educators who come to learn about and share best practices for developing the classrooms of the future.
About the International Center for Leadership in Education
The International Center for Leadership in Education, established in 1991 and located in Rexford, N.Y., is one of the most influential education consulting companies in America. It is best known for identifying and disseminating successful practices to assist all students in achieving higher standards. Dr. Daggett and his team of consultants have assisted numerous state education agencies and hundreds of schools and districts in their improvement initiatives. For more information, please visit www.LeaderEd.com.
Originally Posted on MyLittleElmNews.com, May 14, 2108
Recent Articles
Categories
Archives