April 23, 2018
Up, Up & Away! Festival of Flight to take place Saturday, April 28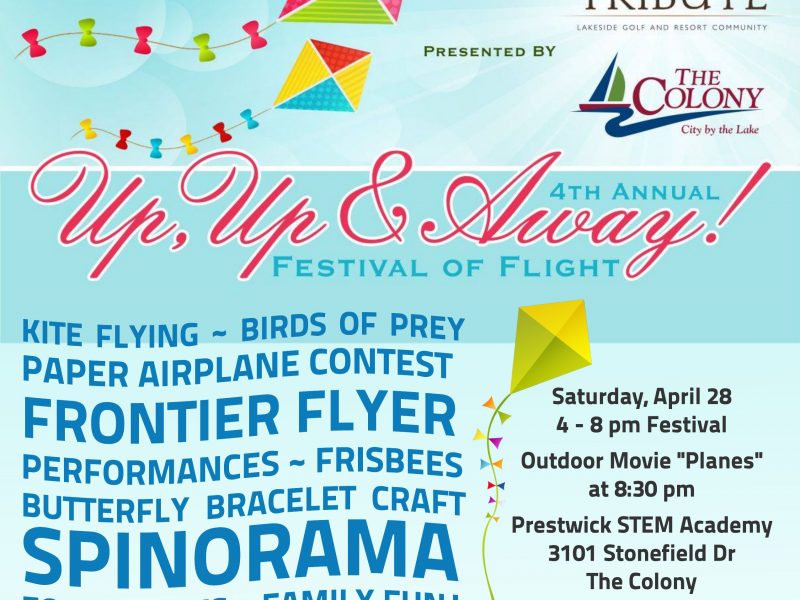 The Up, Up & Away! Festival of Flight, presented by The Tribute Lakeside Golf and Resort Community and the City of The Colony, returns for a fourth year. Celebrating all forms of flight, the festival will feature all kinds of fun flying activities!
Scheduled Activities:
• Kite flying
• Butterfly bracelet craft
• Paper airplane making
• Spinorama swings
• Uproar Demolition ride
• Blackland Prairie Raptor Center presentation
• Frontier Flyer from Frontiers of Flight Museum
• Professor of Pop bubble show
• Temporary glitter tattoos
• Frisbee giveaways
• Musical performances on the stage
• Food trucks: Chef Cassy, Bombay Street Food, and DFW Ice Cream
• Showing of "Planes", rated PG
…and more!
Bring the entire family to this all ages outdoor celebration. For more information, please contact The Colony Parks and Recreation Department at (972)625-1106.
Recent Articles
Categories
Archives