February 6, 2019
Construction Officially Underway After Groundbreaking Ceremonies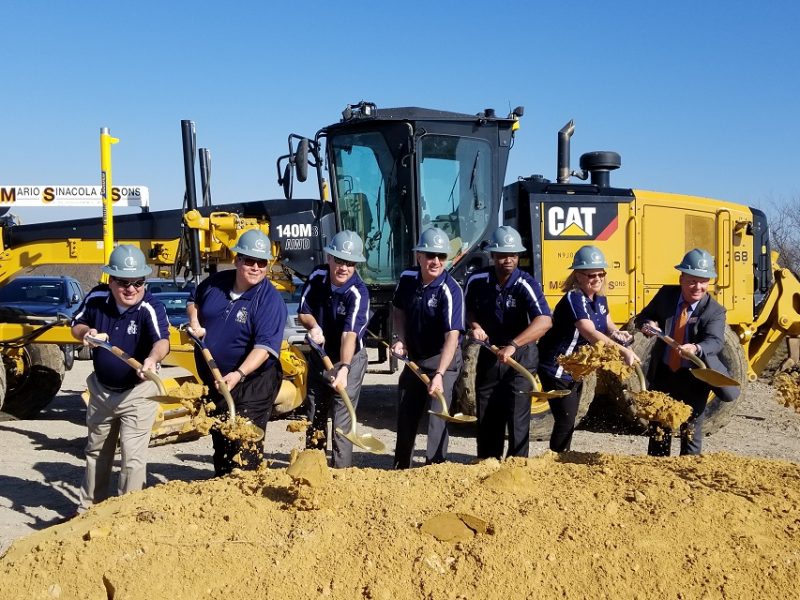 Little Elm Independent School District officials broke ground Monday for two new schools at Eldorado Parkway and French Settlement Road in Little Elm and Lebanon Road in The Tribute community within The Colony. These sites will be the locations for Jerry R. Walker Middle School and Lowell H. Strike Middle School. It has been more than four years since the District has opened a new campus. The most recent was in 2014 with the new construction of Prestwick STEM Academy in The Tribute.
Huckabee and Associates is the Architect for the design of both buildings, Balfour Beatty Construction is the contractor for Walker Middle School and Cadence McShane Construction is the contractor for Strike Middle School.
Little Elm ISD Board members and Daniel Gallagher, superintendent, broke ground at both locations in front of a crowd of town and city officials from Little Elm and The Colony, Little Elm First-Responders, representatives from Huckabee, Balfour Beatty, and Cadence McShane, Matthews Southwest, and the Little Elm ISD administrative team.
"It is such an exciting time for our community," said Gallagher. "We appreciate the support of our voters who approved the bond election in 2017 that included the construction of two new middle schools."
The 194,000-square-foot buildings, scheduled to open fall of 2020, are the exact blueprint of each other and will accommodate 1,200 students in a two-story, open-concept, and flexible design. The open-style provides more visibility throughout the building while the flexible design gives students and teachers the freedom to adapt spaces based on learning needs. Take a virtual tour inside the campuses.
"When considering the look of the two campuses, we wanted to design something innovative for our students and teachers to have a world-class educational experience," said Gallagher.
Walker Middle School is named after Little Elm Police Officer, Detective Jerry Walker, who was killed in the line of duty in 2017. "At one point in his law enforcement career, Jerry was a School Resource Officer at Little Elm ISD and we know he touched so many students' lives while he served there," said Rodney Harrison, chief of the Little Elm Police Department. "What I am most proud of is the legacy Jerry will have on the future students of Little Elm."
Strike Middle School is named after Dr. Lowell Strike, former Little Elm ISD Superintendent from 2015 until his retirement in 2017. "It is an honor to name the school after Dr. Strike. He wasn't here long, but his impact was great," said Melissa Myers, president of the Little Elm ISD Board of Trustees. "He came at a time when the District needed a leader. He had a great vision and a great respect for students and he helped us get to where we are today."
The total estimated cost of the construction of Walker Middle School is $68.5 million and Strike Middle School is $67.5 million. The Little Elm ISD Board of Trustees approved the price of the new schools at the December 17, 2018 school board meeting.
Recent Articles
Categories
Archives