May 24, 2017
Matthews Southwest awards $500 scholarship to Little Elm Top Ten seniors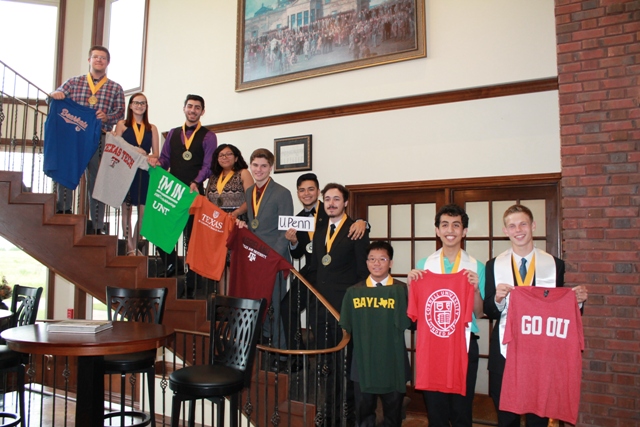 LITTLE ELM, Texas – Matthews Southwest, the developer behind The Tribute Lakeside Golf and Resort community, located within Little Elm ISD, announced its fifth annual scholarship awards to Little Elm High School's Top Ten seniors at a recent awards luncheon. Each senior was awarded with a $500 scholarship for their higher education.
"These high school seniors desire to make a difference in the world and are working hard to achieve their hopes and dreams," said Jack Matthews, president of Matthews Southwest.  "This scholarship was created to support exceptional students who have demonstrated a commitment to learning and we are excited to help them reach their educational goals."
The scholarship recipients, in Top Ten order, are:
Valedictorian: Jacob Genuise – Attending the University of Oklahoma
Salutatorian: Daniel Cardenas – Attending Cornell University
Ryan Wong – Attending Baylor University
Boris Filic – Attending Collin College
Jose Mendoza – Attending the University of Pennsylvania
Alexander Frizzell – Attending Texas A&M University
Emily Garcia – Attending the University of Texas at Austin
George Chamoun – Attending the University of North Texas
Shelby Rutherford – Attending Texas Tech University
Tanner Davis – Attending Sam Houston State University
Each of the Top Ten students was introduced by the teacher they had chosen as playing a pivotal role during their time at Little Elm ISD. Parents gave tearful and emotional speeches as they reminisced about the early childhood of their graduate and addressed the young person they have become.
Mrs. Renee Pentecost, Little Elm High School Principal, emceed the awards luncheon and said, "I tell myself I will not cry, and every year I cry. These students, their families, and their stories touch my heart."
Recent Articles
Categories
Archives