October 9, 2020
The Tribute Community Supports North Texas (NTX) Community Food Pantry and Little Elm Area Food Bank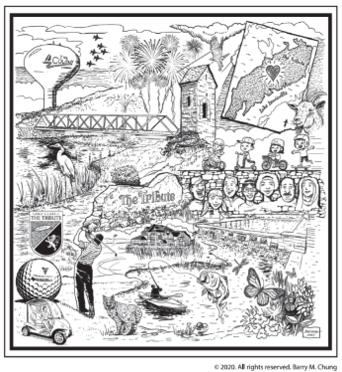 The Tribute Lakeside Golf & Resort community has released purchase information for custom designed t-shirts and sweatshirts to benefit NTX Community Food Pantry and the Little Elm Area Food Bank. The shirts feature original artwork from esteemed local artist Barry Chung. The apparel is offered in various colors, styles, and sizes, including ladies, men, youth, and unisex.
Alexandra Sievers, lifestyle director for The Tribute, says, "There are local families that need help NOW. Food bank resources in our areas are stretched trying to serve hundreds of families every day, and we want to offer support for these valuable services while celebrating our community."
To support NTX Community Food Bank and the Little Elm Area Food Bank, order custom-designed Tribute apparel by visiting www.companycasuals.com/TheTribute. These limited edition hoodies, shirts and sweatshirts are only available for purchase until November 6, 2020.
About Barry Chung (artist): 
Barry Chung has big, giant, huge experience as an art director and illustrator. A senior art director at Mattel for ten years, he has created award-winning graphic and packaging design for best-selling children's entertainment properties, including Warner Bros., Disney, Nickelodeon, DC Entertainment, and Fox. Barry and his wife Myra are residents of The Tribute community.
About the North Texas Community Food Pantry: 
The NTX Community Food Pantry began in The Colony, TX in 2007 and serves The Colony, southeast Denton County, and surrounding areas. NTX serves over 450 families each month who experience food insecurity in their homes due to various reasons: including low-income families, single parents, senior citizens, unemployed individuals, disabled veterans, and anyone else who comes to the pantry seeking food assistance. NTX Community Food Pantry partners with The North Texas Food Bank and one of the food banks approved affiliates. For more information about the NTX Community Food Pantry, visit their website here.
About the Little Elm Area Food Bank: 
The Little Elm Area Food Bank began in 1984 when founder Pearl Gentsch requested cans of food for the poor instead of gifts for her birthday. The Lawrence/McWhorter Foundation managed operations for several years and added a resale shop. The Little Elm Area Food Bank service area includes Hackberry, Little Elm, Lakewood Village, Oak Point, Crossroads south of Highway 380, Hill Town, Navo, and all additional areas served by the Little Elm Independent School District. As the Town of Little Elm's only social service agency, the Little Elm Area Food Bank is critical to the Little Elm community. The LEAFB gives peace of mind to area families in crisis as it provides for their emergency food needs. For more information about the LEAFB, please visit their site at www.leafb.org.
Questions, please contact:
Alexandra Sievers, alex@tributeliving.com, 949.300.8397
Shanda Nicely, shandasue@netscape.net, 865.385.1235
Recent Articles
Categories
Archives