May 18, 2021
Volunteers of America Classic Announces Community Programming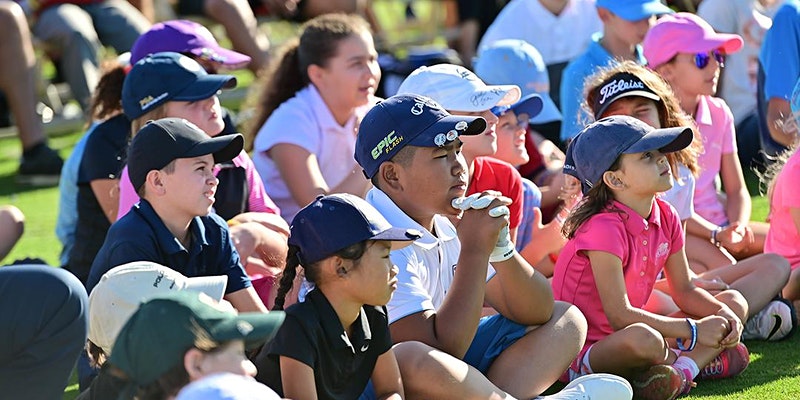 The Volunteers of America Classic returns to The Colony, TX June 28 – July 4, 2021 with top LPGA professionals competing for a $1.5 million purse playing Old American Golf Club at Golf Clubs at The Tribute. In addition to world-class golf, Tournament week will encompass a variety of free family-friendly event programming.
Tournament week kicks off Monday, June 28, with a Junior Golf Clinic for youth ages 7-13 featuring LPGA player engagement. Programming will begin at 10 am, and registration can be found HERE. Tuesday will feature the third annual Women's Leadership Summit presented by Versant Health. The event will feature a hybrid format with both limited in-person and online viewing options. More details and speaker announcements will be announced soon.
#VOAClassic week is excited to also welcome a new family-friendly event in partnership with the city of The Colony, Family Yoga, Wednesday, June 30. All participants will receive a complimentary Daily Ticket to the Tournament in additional to a yoga mat. Healthy snacks will be provided following the yoga session. Registration is also free and can be found HERE.
"The Colony is thrilled to welcome the Volunteers of America Classic back to the community and elevate the Fourth of July programming that is already a yearly tradition in the city," Mayor Joe McCourry said. "Residents and those throughout the metroplex can expect an exciting week with a variety of family-friendly events to attend."
Going into the Fourth of July weekend, the Liberty 5K/10K, celebrating its 35th year in The Colony, will take place on-site at the Tournament for the first time. Runners will enjoy a race route through the trails along Lake Lewisville. Participants can register HERE. That evening, The Colony Community Concert will take place at Golf Clubs at The Tribute following play at 7 pm. Admission is free to the public and will feature headliner Jason Boland & The Stragglers opened by Cody Canada and The Departed. All attendees will also receive a Daily Ticket to the #VOAClassic. Food and drink will be available for purchase from Truck Yard The Colony. Attendees can also expect to see a Truck Yard presence at the Tournament all-week with rotating food trucks throughout the course. Concert tickets can be reserved HERE.
Visit voaclassic.com for more details on community programming and to purchase Tournament tickets. Daily Tickets are available for $10 and Weekly Tickets are $20. Follow us on social media @voaclassic.
Recent Articles
Categories
Archives